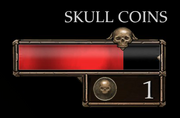 Skull Coins are Gauntlet's version of extra lives. If there is at least one Skull Coin available, a dead hero can revive at full health and the game can continue. When the hero revives they will be an ethereal spirit for several seconds to give them an opportunity to move away from an area that would otherwise be dangerous to spawn into. Ethereal spirit can be broken earlier if the hero makes an offensive attack. If all heroes have died while the Skull Coin count is at zero, the game will be lost. All players share from a pool of Skull Coins.
Obtaining Skull Coins

Skull Coins can be obtained in one of four ways: picking them up (Campaign only), purchasing them with gold (Endless only), starting a floor with zero Skull Coins (Endless only), or most commonly, filling the Skull Coin meter. The Skull Coin meter is filled by killing monsters, and killed monsters fill meter relative to their tier. For example, killing a mini-boss or even a summoning stone fills the Skull Coin meter far more than killing one of the most common low-level monsters.
There are two important things to note in regards to filling the Skull Coin meter. The first is that meter fills much more quickly when the Skull Coin count is at zero than any other number (filling slower as the count increases). The second is that killing monsters that are charmed (such as with Siren's Lute or Scepter of the Vampire King) will not fill the Skull Coin meter, nor will turning enemies to gold with Wizard's Active Magicite ability, Polymorph; this is crucial to consider when your Skull Coin count is at zero and it is vital to build meter.
Endless Mode
In Endless, you will always start a new floor with at least one Skull Coin even if you would have otherwise had none. Also, all previously dead heroes will automatically be brought back to life at the cost of Skull Coins when beginning a new floor. Given these two facts, players may choose to manipulate this system to their advantage to gain full health under certain circumstances. When at the end of a floor, simply count the number of dead heroes and subtract that from the Skull Coin count. If the difference is equal to one (or less than one), it would be advantageous to die and respawn (assuming you have less than full health) before going to the next floor since you will be guaranteed at least one Skull Coin.* This will not be to any advantage if the difference would already be greater than one.
* Keep in mind that if there is only one hero alive and the Skull Coin count is currently at zero, dying will end the game. Of course, no advantage will be gained in this case.
Notes
The maximum number of Skull Coins that can be held at once is 1,024, however, achieving this many Skull Coins is virtually impossible.
Originally, tangible Skull Coins could not be bought or found. These features were added later with the Slayer Edition update.[1]
Kicking the last alive player from a game while the Skull Coin count is at zero will result in a game over.
References